Doing It Right the First Time: Professional Home Theater Design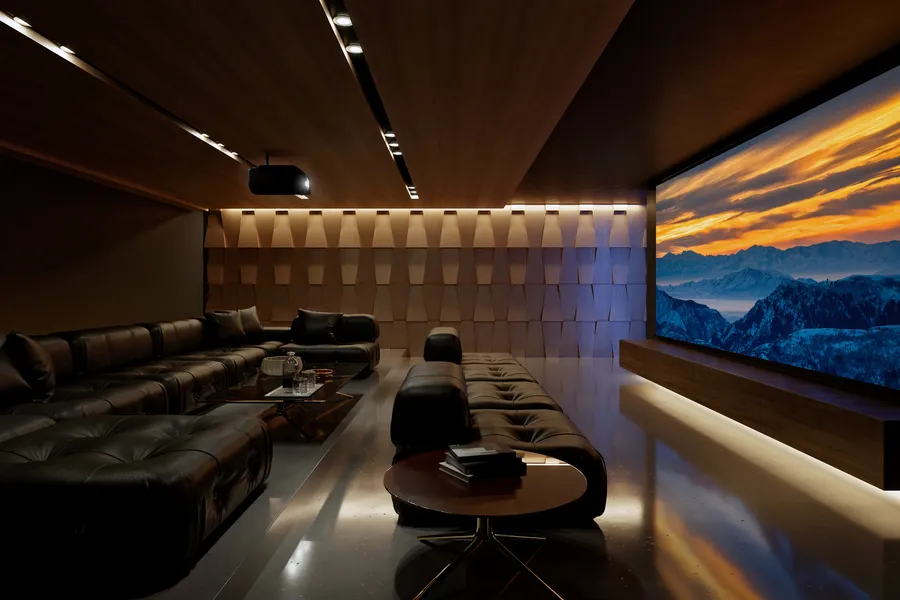 Top Considerations in a Home Theater Installation
As the technology surrounding home theaters continues to advance, so does the demand. After all, these entertainment spaces offer movie viewing that rivals the best cinemas in town, with surround sound and brilliant lifelike images that take your breath away. Or, at least, it can.
Achieving the immersive cinematic experience requires that all components are correctly chosen, calibrated, and installed with precision. If you don't have the expertise and knowledge of a professional home theater installer, going DIY is difficult at best and disastrous at worst.
Let's explore the details of home theater design and how the entertainment space in your Sherwood Park home benefits from a professional installer.
SEE ALSO: Check Out Our Audio-Video Installation Gallery
The Image and Sight Lines
Did you know that the first consideration in a home theater is seating? Almost everything else in your home theater, from lighting to speaker placement and screen size, is based on the type of seats and their layout. Seating design ensures the proper riser depth, height, and location, creating unhindered sight lines and viewing angles and guaranteeing that every seat is the best one in the house.
From there, we consider the movie screen and projector or the latest 4K OLED TVs for casual multi-use media rooms. The proper movie screens are selected by analyzing the level of ambient light, determining the throw distance, and much more.
Your lighting system also plays a critical role in the success of your home theater, requiring just the right illumination without affecting the image quality or creating glare.
The Surround Sound
The latest surround sound technology continues to advance, offering the immersive cinematic experience once relegated to top-end commercial movie theaters. Dolby Atmos is considered the standard today for home theater sound. This 3D object-based audio and other surround sound systems require professional calibration, balancing the sound system, and adjusting frequencies.
Many homeowners prefer in-ceiling and in-wall speakers instead of Dolby Atmos-enabled upfiring speakers to maintain their home theater's aesthetics. This requires careful placement and installation, as well as the right speakers and subwoofers for the job. This then brings us to our partners.
Our Partners
At National Audio Video, we partner with the most trusted brands in the industry, ensuring your home theater offers the best images, sound, seating, and design. A few top contenders include Bowers & Wilkins, Monitor Audio, Totem Acoustics, Samsung, and Sony. We'll also make sure your home theater is easy to use, integrating audio-video equipment, lighting, and shades to enable one-touch control from a touchscreen or remote.
We're proud to be Edmonton's original audio and video store, serving the area for over 80 years. Our years of experience ensure we have the skills to expertly install seating, sound components, lights, screens, and projectors, creating a home theater that exceeds your expectations.
This is one arena where a DIY project can't compete with a professional installation. To learn more about home theater design or to schedule a complimentary consultation, contact National Audio Video today.
Stay Informed
When you subscribe to the blog, we will send you an e-mail when there are new updates on the site so you wouldn't miss them.